I have finally finished this massive masterpiece. My mum's friend from her patchwork sisterhood asked for a card for her parents 65th wedding anniversary. I'm getting paid for this one!! She wanted it as big as I could make it. Well I decided on 12x12. I thought I'd go with the twisted easel as it offers more support to the card front than the standard easel.
I used 3 pieces of the backing board that comes with stampin up designer paper. I also used for the card front a piece of mount board from Eckersley's Art and Craft. I used some ivory shimmer card stock as my card base. All of the patterned paper is from a retired set from Stampin Up and it is my absolute favourite. The plain cardstock used is Stampin Up apart from the black one. The lace and ribbon from local Spotlight and the little heart pin is Heidi Grace.
Of course by now you would have guessed that the flowers are from that wonderful place ...
Wild Orchid Crafts
I didn't have any purple flowers and I thought I would give colouring them with my Copics a go. I think they turned out OK.
I'm also entering this in the Magnolia- licious highlights challenge blog. In the April challenge as it's a Tilda and Edwin together theme.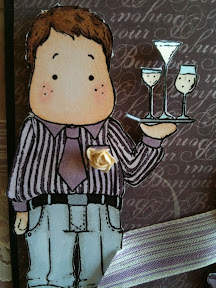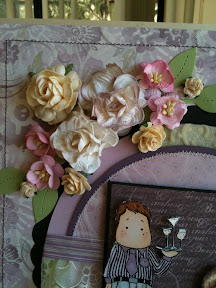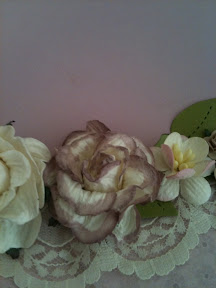 For the centre circle on the front of the card I used week 132 sketch from Mojo Monday.
Would love to know what you think!!!
Thanks for stopping by.
-wishing true happiness to you all!!