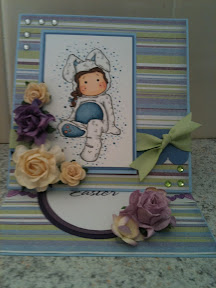 An Easter card for my eldest daughter.
Card recipe:
DP is from my stash (had it so long I don't remember who made it)
Cardstock is Stampin Up in pale plum, perfect plum, bashful blue and night of navy.
Flowers are from wild orchid crafts and bizzy becs.
Sentiment is from Stampin Up.
Ribbons are also from my stash.
Tildes coloured using Copic's
E11, E00, E000, R20, B91, B93, B95, C1 and 0.
This is one of my favourite images. I'm working my way through the images I've been given as I only have a few of my own stamps. The ladies in the magnolia group are so generous. So thanks again!!!!
-wishing true happiness to you all!!