I made this for my daughters up coming birthday. She's turning 12. Hope she likes it!!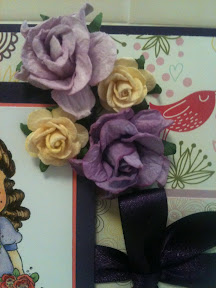 Card Recipe:
Stamp: Magnolia tilda in the garden
Paper & Cardstock: Echo Park springtime 6x6 paper pad plain cardstock by Stampin Up.
Ribbon: satin dbl faced Lincraft
Flowers: wild orchid crafts and bizzy becs.
Thanks to Norma I entered this in the inspiration #7 challenge at the magnolialicious challenge blog.
http://magnolia-liciouschallengeblog.blogspot.com/
-wishing true happiness to you all!!