I just celebrated my 35 birthday and my wonderful girlfriend Lana
gave me the most wonderful gift ...
So today I got busy and inked up my gorgeous new stamps and got to colouring.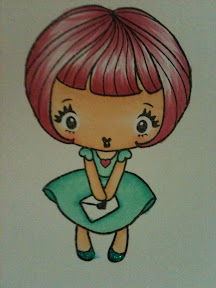 This last pic was inspired by Jodie from Oz and her gorgeous ribbon hair Tilda ... Mine does not come close to her stunning card.
http://2.bp.blogspot.com/_lMVQxL7sBO4/TUlRfob3lhI/AAAAAAAABpA/w5yQb0zi1r0/s1600/Dark+Skinned+Ribbon+Hair+Tilda+-+Jodie+from+Oz.jpg
I just need to make some cards so these girls have homes.
I'll keep you posted!!!
-wishing true happiness to you all!!